Rosenfeld's Jewish Delicatessen was founded in 2013 by Warren Rosenfeld, a former Washington, DC lawyer, business owner, real estate developer and corporate CEO, who moved to Ocean City, Maryland in 2008 with his wife Dana after they had become empty nesters. Both had vacationed in Ocean City since their youth, and had brought their children to Ocean City for many family vacations.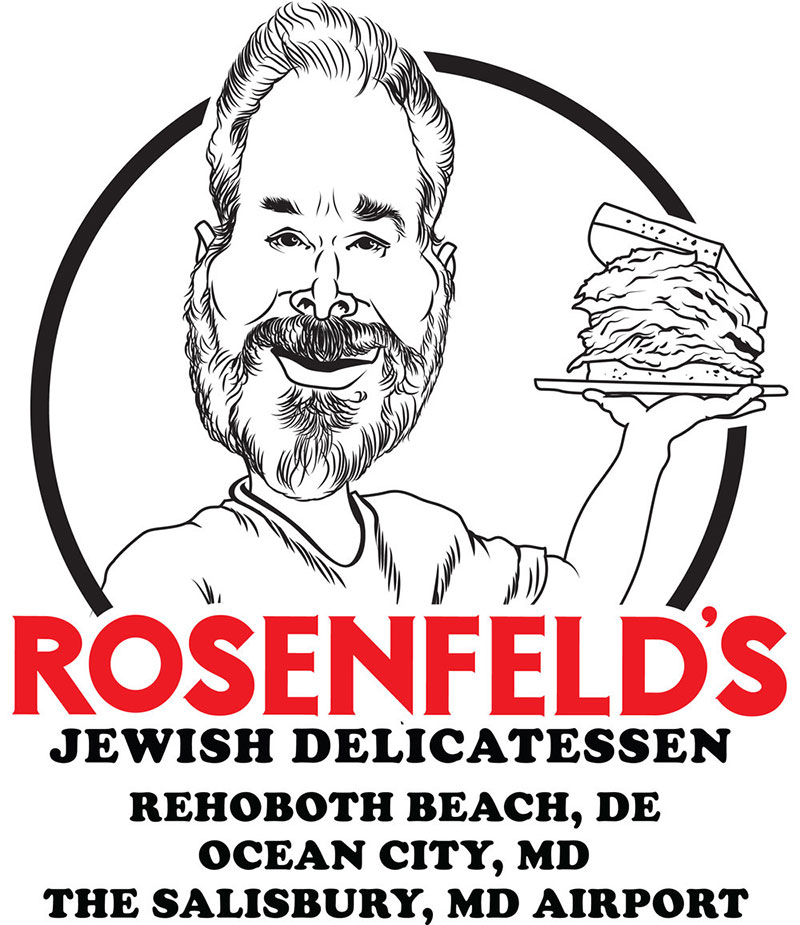 After living in nearby Ocean Pines for only a short period of time, it became apparent to Warren and Dana that there was no Jewish delicatessen nearby, or any type of food that could qualify as real Jewish deli food anywhere within a 2 hour drive, in any direction. Tired of driving to the DC area or to the Baltimore area for real Jewish deli food every few months, and having recently retired from all other business activities, Warren decided in 2012 to seriously look at the possibility of bringing an existing DC or Baltimore deli to the Ocean City area, or, failing that, opening a new, traditional Jewish deli from scratch.
Being a deli-loving, nice Jewish boy, Warren just couldn't imagine calling home to a place without a good Jewish deli, and believed strongly that there were other locals who felt the same way. Being a third generation restaurateur (Warren's grandfather co-owned and ran a bakery in Washington, DC's Eastern Market in the 1940's after leaving Nazi Germany, and Warren's parents owned and ran a large, successful diner for more than 15 years just a couple of blocks from the White House), Warren had inside knowledge about the restaurant biz, and what it would take to get the idea from concept to reality.
Finding a local partner and eventually other community investors that felt the same way, and finding an experienced restaurant consultant in SoDel Concepts who also felt very strongly about this project, Warren was thereafter able to find a suitable location at the iconic Sunshine House structure in mid-town Ocean City, at the corner of 63rd Street and Coastal Highway. Signing a lease in December, 2012, Warren targeted the deli for opening in mid-April of 2013. The deli opened to the public on April 29, 2013.
Warren and all of the others associated with Rosenfeld's Jewish Delicatessen, are extremely passionate about bringing traditional, Jewish, old-world favorites to DelMarVa, whether locals, part-time residents or those on vacation. Our goal is to have the best "Jewish food museum" found anywhere. Whether you are craving good old fashioned pickles, knishes, blintzes, latkes, matzo ball soup, matzo brei, huge kosher-style sandwiches, chopped liver, whitefish, herring, chicken in the pot, stuffed cabbage, bobka, cheesecake, or wonderful New York style egg creams made with Fox's U-Bet syrup, you'll find all of this and more at Rosenfeld's. We're serving the deli food that we remember from our youth, with the sights, smells and tastes that we've been missing for too long a period of time.
Come join us and treat your belly to our Jewish deli! We look forward to seeing you, and look forward to sharing with you all of the foods from your youth, and that comprise the best of your food memories.